---

RTM technology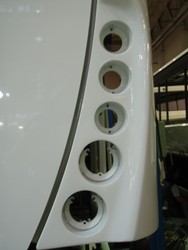 RTM technology, also known as injection moulding, belongs to machine technologies, which are suitable for complex and precise products in larger batches. It is carried out in closed moulds and the resin is fed into the mould cavity using mixing and feeding equipment. A special type of glass reinforcement needs to be applied. RTM technology is the successor to manual lamination for batches of more than 200 pcs.
The following components are typical products of RTM technology:
buses (bumpers, side edges, covers for machine elements)
lorries (spoilers, hoods fenders)
agricultural or construction machines
As opposed to manually laid laminates, both surfaces of the product are smooth. The mould consists in two parts and is closed. The mould is made from metal composite.
Are you interested in RTM technology? Contact us!
---
Secondary content
News

---