---

Company profile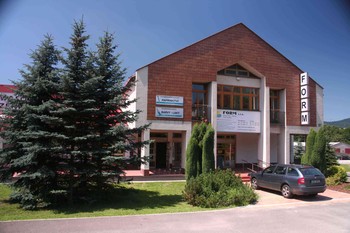 We are a Czech company based in the picturesque surroundings of the Moravia-Silesia Beskydy Mountains near the border with the Slovak Republic.
We have years of experience with the production of laminated products – from small through medium to large parts in simple or sandwich structure. In the second half of the nineties we expanded our business activities to the production of products made from thermoplastics using vacuum moulding and the operation of two retail stores – a paint store and stationery.
Our production is focussed on components for the rail, tram and automotive industry. We offer comprehensive services to customers – from cooperation on the development of new products, through the production of models, moulds and prototype parts,
Our company is not solely focussed on the local market but successfully builds business relationships with foreign companies, mainly in rail technology. Thus in the future we expect an increasing share of exports in the total production of the company. Our current foreign markets include Germany, Switzerland, France and Slovakia.
Company vision:
The present
At present we are focussing on the production of components made based on drawings, technical specifications or samples received from the customer. Thus we use the customer's own design to create a unique product tailored to meet his needs arising from the project. If the customer is interested we are able to work together on the development of a new product or consult the design and production technology of components. Emphasis is placed on maintaining first-class quality of products, maintaining a functional system of quality and continuously improving customer satisfaction.
We ensure the finalization of finished products by painting using water-based, polyurethane and acrylic paints.
Moreover, logistics and marketing are improving. The stable production program according to our own documentation and designs is complemented by products made according to the technical documentation of the customer. Moulds for sampling products can be prepared according to our own or provided designs. A comprehensive information, economics-production system was implemented in the company, in order to ensure more detailed planning and monitoring of the costs of production.
---
The future
The investment objectives of the company's development include investments into the technological equipment of the production facilities:
High pressure moulding press and cutting plotter for processing thermoplastic products
heat recovery unit – reduces energy costs for the ventilation of production operations
3D measuring and scanning devices
Our goals in the field of marketing strategies include the production of high quality products, in order to meet the requirements and exceed the expectations of our customers and business partners, including the implementation of new production technologies.
---
Secondary content
News

---